Hi there, hope you're enjoying the site. We just wanted to let you you know that we may collect a share of the profits if you go on to buy a product after clicking one of the links, images or buttons on this page.
Our Pick Of The Best Full Face Motorcycle Helmets After 2017
Full face motorcycle helmets provide superior protection in case of an accident, but many riders argue that they're not as comfortable or breathable as an open face helmet.
The right full face helmet will have good airflow, a comfortable design and better protection. Finding the right model can be tricky. We're going to share five of the best models on the market to help you find the ideal one for your riding style. Keep the following points in mind when comparing helmets:
Shield System: Many full face helmets have special shield systems that include a sun shield and a regular face shield. These systems offer you better sun protection when riding during peak hours, so you don't have to worry about wearing sunglasses. Determine whether the built-in sun shield system is what you're looking for in a helmet.
Ventilation: Check the product description to learn more about the ventilation system. A high quality full face helmet will have a good ventilation system in place to keep you cool in the summer and warm in the winter. Ideally, you want vents in the front and back of the helmet that push the hot air and humidity out.
Comfort: Another important thing to consider is how comfortable the helmet is. The interior should feature at least a liner that's removable and washable. Cheek pads also help make the helmet more comfortable. Also, consider the weight of the helmet. Heavier helmets cause fatigue much faster than lighter models.
Shell: What is the shell of the helmet made of? ABS and polycarbonate are two great options and the most common ones for good quality helmets.
Good Motorcycle Helmets Reviews for 2017
Vega X888 Full Face Helmet – The Vega X888 full face helmet comes in a flat black color, and features a "wick-dri" antimicrobial fabric liner that conforms to your head's natural curves. This helmet meets or exceeds US DOT standard FMVSS 218.
Vents in the forehead, chin, rear and mouth help you stay cool as you ride, and the EPS foam liner enhances the helmet's protection. All vents are adjustable, and you can purchase replacements whenever necessary.
With a wicking antimicrobial liner and replaceable vents, this helmet is ideal for riders who live in warmer climates. Plus, this helmet also offers up to nine different shield options to meet your needs.
LS2 Stream Snake – Featuring a red snakeskin design, the LS2 Stream is a comfortable helmet that meets or exceeds ECE/DOT requirements.
The Stream Snake features a twin shield system that's built in. The sun shield features drop-down technology that helps protect the eyes from the sun and is easy to retract with the touch of a button. The face shield is scratch resistant and Pin lock read.
The interior of the helmet features a removable technical fabric liner that's machine washable. The liner also has cheek pads for added comfort. The aerodynamic shell features an HPTT polycarbonate alloy.
The DOT approved chin strap allows for a quick-release so that it's easy to get this helmet on and off.
For riders who want a colorful fullface helmet that's safe and comfortable, the LS2 Stream Snake is a great choice.
Razor Youth Full Face Helmet – The Razor Youth full face helmet is a great option for young riders aged 8 to 14. This helmet fits heads between 21.5″ and 23″ and offers many of the same comfort features that adult helmets offer.
A spacious eye port provides plenty of space for a pair of goggles, while vented mouth protection adds comfort and improves safety. Altogether, the helmet has 17 vents that help keep the head cool.
Headband padding encompasses the entire circumference of the head for extra comfort and safety.
Available in two colors (black cherry and black), this helmet is sleek and is the ideal choice for younger riders.
Triangle Helmet Full Face Matte Street Bike Helmet – Triangle Helmet's matte street bike helmet comes in four colors and sizes, and it's DOT approved. Comfortable, durable and easy to wear, this is a helmet that everyone will enjoy wearing.
The shell is constructed with advanced ABS material made with high-pressure thermoplastic. The multi-density EPS liner adds to the comfort, fit and safety of this helmet.
A built-in ventilation system keeps you cool as you ride, and there's also a front and rear extractions liner. The included anti-bacterial liner is also removable and washable for added convenience.
With an aerodynamic design and advanced ventilation system design, this helmet produces little noise even when riding at higher speeds.
LS2 Stream Solid – The LS2 Stream Solid is similar to the Stream Snake, but features a solid black color for a sleek look. Available in five sizes, this helmet fits riders of all sizes and meets or exceeds DOT/ECE requirements.
The DOT-approved quick-release chin strap makes it easy to enter and exit this helmet. This model also features a removable technical liner that can be washed to keep the interior fresh and clean.
The shell is made of HPTT polycarbonate alloy for added protection and durability. The Twin Shield system features a built-in, drop-down sun shield for those early morning or late afternoon rides. The sun shield is easy to deploy with the touch of a button.
Buyer's Guide – How to Choose the Right Fullface Helmet for You
A full face helmet needs to be comfortable, breathable and protective. Finding a model that meets all three of those requirements can be difficult – but not impossible. We talked about a few things to consider earlier and even shared some of the top helmets on the market.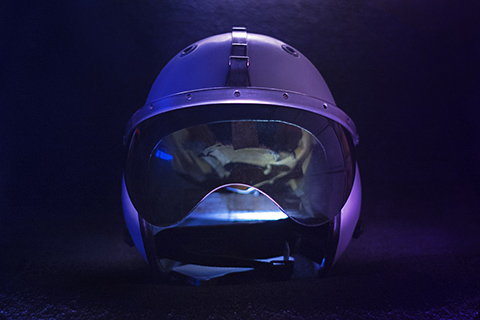 Here are a few other things to consider when shopping for a full face helmet:
Size: Size is an obvious concern and one of the first things to consider when choosing a helmet. A helmet needs to fit properly to provide you with the protection and comfort you need to ride safely. Check the product description to learn more about the helmet's sizing. If only one size is available, check to make sure that it will fit your head. If you haven't done so already, measure the girth of your head, so you can find the right size.
Safety Ratings: Does the helmet meet or exceed DOT requirements? If not, it may not be legal to wear. Helmets that meet these requirements provide the best protection in case of an accident.
Design and Color: The look of the helmet is important, too, even though it does not affect performance. Choose a look that suits your personality and style, so you enjoy wearing your helmet each time you ride.
Cost: The cost will be an important factor to consider, and may be what ultimately helps you make your final decision. But it shouldn't be the first or only thing you consider. A good quality helmet is worth the extra cost simply because it will provide you with better protection and comfort.