Hi there, hope you're enjoying the site. We just wanted to let you you know that we may collect a share of the profits if you go on to buy a product after clicking one of the links, images or buttons on this page.
How to Find the Best Road Bike Clipless Pedals After 2017
Clipless pedals allow you to ride longer distances without getting fatigued, and they also eliminate the hassles of having to deal with clips and straps, like losing circulation in your feet (ouch). But a clipless pedal system requires you to not only buy a pair of pedals, but cleats, too. The good news is that most pedals will come with cleats – all you have to do is attach them to your shoes.
But still, having to compare and find the right pair of pedals can be daunting to say the least. What should you be looking for when you shop?
Fit: First and foremost, you need to make sure that the pedal will work with your bike. You'll also need to make sure that you have the right shoes. Check the size of the pedal to make sure that it's a good fit for your bike.
Quality: Whether you're a serious rider or just use your bike to commute to work each day, quality is important when buying clipless pedals. If the pedals break mid-ride or you come across issues with gripping and tension, you could put yourself at risk for injury. Always opt for higher quality over lower price.
User Feedback: Pay attention to what users are saying about the pedal you're considering. Ratings and reviews are a good indication of the quality of the pedal. If the pedal has overwhelmingly negative ratings, run the other way.
We know how hard it can be to find pedals that are durable and comfortable to use. That's why we've done all of the hard work for you and rounded up the five best clipless pedals on the market.
Road Bike Pedals Reviews – Our Top Picks for 2017
Shimano A530 – The lightest and most versatile pedal from Shimano. THE A530 is ideal for city cycling, with a chromoly spindle and steel pedal body.
An SPD cleat is featured on one side, so you can clip in for long rides. The platform side lets you ride with regular shoes for a quick ride around town. These clipless pedals give you the ultimate in biking freedom.
Weighing just 383 grams, this pedal is exceptionally light. The float, release and entry are adjustable, and the pedal is backed by a one-year warranty.
If you're looking for pedals for daily commuting, the A530 is a great choice.
Shimano PD-M324 – The PD-M324 from Shimano is a combination pedal that offers both clip and clipless options for maximum versatility. Like the previous pedal, one side features an SPD clip interface, while the other features a standard platform for use with your normal shoes.
These pedals have an aluminum body with a sleek barrel finish, and a cleat adjuster is built in. A pair of two-bolt cleats are included.
The PD-M324 pedal is a bit heavier than the previous model, weighing around 1.17 pounds, but the SPD attachment is top of the line and built to last.
If you want a durable, reliable clipless pedal, this model is a good choice.
Shimano PD-M530 – Shimano's PD-M530 MTB clipless pedals are affordable and come with cleat clips, so you can start using them right away.
Like the other pedals on our list, you have the option of going clipless or clipped in, but this is not a dual-sided pedal.
A pedal cage ensures that your feet remain stable when you're not clipped in, and at just 455 grams, this pedal is lightweight.
The tension settings for entry and release are easily adjustable, and the sealed bearing axle is low maintenance.
If you're looking for a budget-friendly pedal that doesn't skimp on quality, the PD-M530 is a smart choice.
Shimano Unisex PD-M520 – The PD-M520 features four degrees of rotation and a cleat tension adjuster for the ultimate in comfort while you ride. These dual-sided clipless pedals also come with a set of cleats for your shoes.
While designed for mountain bikes, you can attach these pedals to just about any bike. And the dual-sided entry is a major bonus. Wide pedals allow you to pedal even when you're not clipped in.
Compatible with SM-SH56 and SM-SH51 SPD cleats, this pedal is great for serious trail riders.
If you're looking for sturdy and durable pedals that are exceptionally easy to install, the PD-M520 may just be the ideal choice for you.
XLC PD-S01  – The XLC PD-S01 pedal is ideal for mountain biking and trekking. Like our first pick, this pedal is dual-sided with a cage on one side and a clipless side.
An aluminum body and cage keep this pedal light at just over one pound.
The one side allows for easy anchoring of your cleat, while the other, clipless side ensures that your feet remain stable while you ride – even on challenging terrain.
Study and durable, these pedals have a nice feel to them. They're easy to install, too, so you won't waste an entire afternoon getting your bike ready for your next ride.
Buyer's Guide – How to Choose the Best Clipless Mountain Bike Pedals For You
Buying a set of pedals for your mountain bike shouldn't be complicated – and it doesn't have to be. We've shared five of the best pedals out there, but how can you narrow down your choices to just one?
Personal preference is one way to go, but there are other things that you should also keep in mind.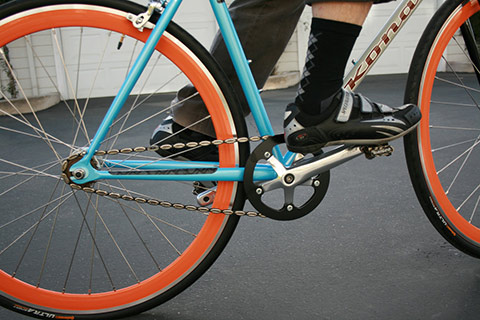 Here's what we recommend looking at:
Versatility: We recommend looking for pedals that offer versatility. Many of the models on our list are dual-sided, which means one side is clipless and the other side has a platform for everyday shoes. This feature allows you to use your bike in a variety of situations from biking around the block to riding your favorite trail.
Adjustable Tension: Ideally, you want an adjustable pedal that lets you tweak the entry and release for added comfort and ease of use. Not all pedals offer this (although most do), but it is a feature that should be seriously considered.
Weight: Whether you realize it or not, weight is an important factor to consider. Heavier pedals may be more difficult to pedal, while lighter pedals allow you to ride for longer without feeling fatigued.
Size: Consider the size of the pedal. The size will not only help you determine whether it will fit on your bike, but will also give you an indication of how comfortable they will be to ride with.
Price: Finally, consider your budget. Thankfully, clipless pedals are very affordable, but you still want to make sure that you opt for the highest quality you can afford.