Hitch bike racks are a good option if you are on a limited budget as they are generally much cheaper than a full scaled roof carrier system. One major (and quite obvious) point to consider is that you need a receiver for hitch bike racks. If your car does not have a hitch already those carriers are probably not the ideal way to go since adding a hitch to your car is quite expensive. Of course a hitch brings more advantages than just the ability to tie your bikes down but if you really don't need to tow anything besides them it is probably not worth the investment.
However, if your car comes with a hitch already bike racks for hitches are a good way to go. You just need to figure out what size hitch receiver you have (2" or 1 ¼") and make sure that the rack of your choice fits that size.
As with any other system there are plenty of manufactures with different solutions on the market. They following lines will give you a compelling overview about the different types of carriers so that you can choose the best hitch bike rack for your individual needs.
Before Diving Into The Different Types Let Us Have a Look At Some Pros And Cons That Apply To AllHhitch Carriers:
Pros:
The carriers are quickly installed, simply plug onto the hitch and you are good to go.
Easy to handle, no need to stand on your tippy toes and hoist your bikes all the way up to the roof. Bikes are close to the ground so loading and unloading should not be a problem, even for smaller individuals.
Because of the simple installation and the ease of use those carriers are a good solution for frequent use.
Cons:
Versatility. Mostly you can carry nothing besides your bicycles. Some carries offer adapters (at additional cost) that allow you to attach skies and snow boards. If you want to carry additional stuff like kayaks and so on you should take a look at roof rack systems.
Bike rack hitch mounts often block access to the trunk / the back of your vehicle, even with no bikes mounted. Some systems offer swing away solutions though that grant access even with bikes mounted to the rack.
The bikes are often spaced pretty closer together, resulting in bike-to-bike contact. During your drive the bikes will always move slightly, especially when you are travelling on bad roads or dirt roads. You have to carefully arrange your bikes to minimize contact, otherwise you might be looking at some scratches and ruined paint jobs.
Ground clearance. If your vehicle does not have a lot it and you intend to use longer carriers, like wheel tray systems for four bikes, there is a pretty good chance that you will ground the rack sometimes, especially on bad roads. This isn't a huge problem most of the times but it certainly does not do any favors to your rack and your bikes. Some really advanced systems, like the "Thule Apex Swing", offer road dampening features to fight that issue by absorbing the shock of the road.
Security. Locking your bikes on tow hitch bike racks is not as easy as it is with roof carriers. Most systems rely on a cable that runs through all the bikes and is then locked. This might scare away the average thief but serious ones are known to own bolt cutters. A simple 1 or 2cm thick cable isn't really a concern for those so it might be wise to add additional layers of security.
Now that we have learned about the pros and cons let us cover the different solutions available on the market.
Parallel Bars Style, Or Mast Mount Style: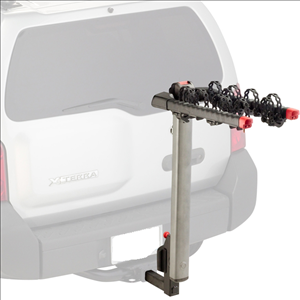 A very common type of hitch bike racks are those with parallel bars. Your bicycles can be attached to those bars usually by zero hassle zip-strips. Simply attach your bike, tie the strips and you are good to go. Those carriers can handle up to five bikes, which is a great plus. The main downside is limited access to the back of your car when deciding to go with a rather cheap carrier. Most advanced carriers can easer be turned down, tilted forward, or swung away to the side to grant trunk access.
Wheel Tray Style, Or Platform Style Mounts: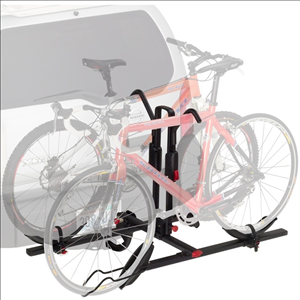 Wheel tray style hitch mounts are also very common. They are by far the most easiest and quickest to handle bike carries on the market. Attaching and strapping down a bike can often be done in 30 seconds or less. These systems have the lowest loading level on the market and are thus the perfect choice for smaller persons. Again, when going with a cheaper option you might have trouble accessing the back of your car while more advanced carriers can be folded down and allow access that way (with no bikes attached only). These carriers can carry up to four bikes. Otherwise they have the same benefits and drawbacks as the wheels on roof racks, but, as mentioned already, with the added bonus of being close to the ground.
Hanging Fork, Or Handle Bar Style Mounts: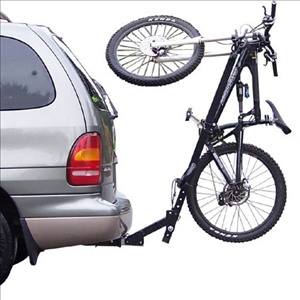 Those racks are fairly new to the market but have the potential to be a real game changer since they eliminate a lot of the problems that established system come with. Though it is not surprising that these new kind of racks are gaining market share rapidly. Unlike classic carriers those hanging style racks carry your bike vertically and not horizontally. They do that by holding the bicycles by their handle bars and additional straps to their rear wheels. The main advantage of those systems is that there is no contact between the bikes at all which entirely eliminates the risk of scratches that most of the classic carries come with. Mounting your bike is really easy too and depending on your car, carrier and bikes you can carry up to six at once. The main downside is that those carriers are still quite expensive.
Still not sure which is the best hitch back rack for you? Then you should stay in touch as we are working on several hitch bike rack reviews right now that will be published as soon as they are done.